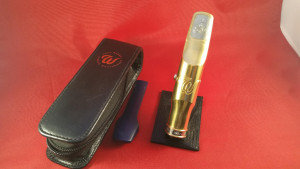 What would you expect from a mouthpiece costing as much as vintage horn? Does a high price equate to high value for the player? To answer these questions and more I took a Theo Wanne Durga mouthpiece for a spin and was surprised at how I felt afterwards.
Initial response: When I open the zippered pouch this piece comes with i was immediately surprised at how heavy the mouthpiece is. It is a monster or brass, gold, and steel. It easily out weighed every mouthpiece i had in my drawer even the stainless steel ones. This thing had heft and the gold plating appeared thick and luxurious. If feels well thought out and the attached ligature was intuitive and simple to use. For me the tip opening of 8* (.115″) blew just a bit too large and out of my comfort range. A 7* (.105″) might be a better fit for me. You can really put a lot of air through these mouthpieces.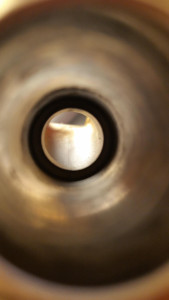 Design: The design has some modern and some vintage aspects that are not like any modern piece I've played in the last few years. The baffle on this mouthpiece is very high and long. To this Theo added scooped inner side walls. This has the effect of adding volume to a space that is already being squeezed. Scooped side walls are a very vintage trait and not usually seen on modern mouthpieces. The baffle and long floor drops in what Theo calls his 'True Large' chamber. On nearly all mouthpieces the chamber is somewhat indistinguishable from the bore. On this piece there is what Theo calls his 'Power Ring' in the bore. This separates chamber from the bore and is a unique feature for certain. What effect this has I can only accept his explanation but it does seem at first glance to separate the chamber from the bore and focus the air pulses through the mouthpiece.
While i usually prefer pieces with a larger mouth feel this pieces slim profile is easy to adapt to. The bite plate is user replaceable. Yes, you can actually replace the bite plate. This little innovation should be celebrated and ultimately imitated as this will improve the long term enjoyment of the mouthpiece
Tone: Here's where the surprises began to appear. I have seen Tim Price's endorsement of this mouthpiece on YouTube and to be honest he can make anything sound good so I took that with a grain of salt. So I wasn't entirely sure what to expect. I expected brightness beyond compare and what I was greeted with was indeed some brightness but balanced with a warmth and focus. i was so surprised i moved it from my Yamaha bari to my vintage Keilwerth bari. It sounded just as punchy and deep as before if not slightly more more. There was still edge and projection but there was a core that i hadn't expected.
I suspect the careful engineering of those vintage styled scooped sidewalls are to blame. Brightness and projection are easy to do but to add some body to that same tone is difficult and I think Theo and team did that. That said I did two rehearsals, Big band and Rock/Ska and received approving looks but this piece didn't blend as well in  the sax section at big band. I tried a few other reed combos but I need just a pinch more edge removed. Perhaps more traditional Vandoren reeds may have helped. For the rack/ska, this was deadon perfect.
Ligature: The ligature features an easy to operate thumbscrew and a H shaped pressure plate. It is attached to the body of the mouthpiece using a type of set screw. You can purchase additional pressure plates from Theo's website. While play testing the ligature in different position I've found that the center position works best for me.
Value: This piece is priced near the very top range of the mouthpiece pricing. Priced at $850 from Theo's site and about $100 less from Musicians Friends. That's not to say that his prices represent the extremes. Ted Klum's solid silver alto mouthpiece sits at $1,100. Yes, a grand for a new alto mouthpiece to which the materials are likely half the cost. But back to the Durga,  the used market is where this piece really climbs the value scale. If you can find a used one under $500 I'd recommend getting it. It might be the last piece you ever buy.
TAKE AWAY: I really enjoyed playing this mouthpiece. It was guts, loud and had great depth of tone for its design. I want more than anything to recommend this piece to everyone but I can't. If you can afford this piece then buy it and I'm sure you'll love it. If you can't there are other great options at half this price.   I am hoping that Theo will eventually replicate this design in hard rubber at 50% of the price. I'd buy it at $350 – 500.
[huge_it_gallery id="2″]