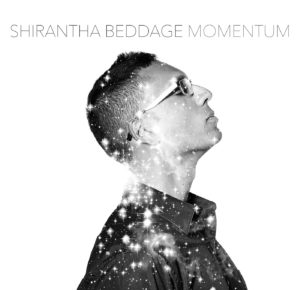 It should come as no surprise to anyone who's ready my last 2 reviews of Shirantha Beddage's albums that I'm a fan of his. I had some idea of what was to come on this album as Shirantha had tweeted its pending release. With the CD release only a month away  I was quite excited to get a copy in my hands and begin the process of consuming it.
Let me start by saying my favorite feature of his combined talents is his tone. Yes, you've heard me harp on his tone before and for good reason. I still feel his tone represents a modern take on the husky dark bari sax of yesteryear. It has the edge you'd expect for a soloist but the depth of a big band bari tone. It stands in opposition to what has been a trend towards the brighter more edgy sounds as characterized by players like Pepper Adams, Nick Brignola, Denis Diblasio, and Gary Smulyan. I find Shirantha's tone to be much more in line with players like Del Dako, Bruce Johnstone, and young players like Adam Schroeder. It's my hope we'll hear more soloists take a fuller tone in the future.
Another of my favorite features of this album is the variety of musical styles that are on display. From the New Orleans inspired song Pork Chop to the silky blues groove of Drag and Drop to the traditional Angle of Incidence. Each piece connects to the next though an instrumental or thematic link.That is until you get to the unusual and brief tune Axis of Rotation.
One of interesting tunes is Axis of Rotation, i find the tune somewhat anxiety inducing and unsettling. It has a repeating piano rhythm that is played against the dynamic percussion of Mark Kelso. This motion combined with the melody line weaving in and out with minor tonalities is tastefully unusual. I liked when composer and performers can illicit emotions with their art. The piece is rather short so it stands in good opposition to the straight ahead jazz of the next tune on the album, Angle of Incidence.
The last song on the album, the Long Goodbye, has gospel feeling without taking you church. It could be the soulful piano intro or just the fact that many phrase endings have that solid major resolution. The piece really bookends the album and brings you back to where you started with a simple melody and brilliant playing. It's the kind of piece that sends a fond and sincere goodbye to the listener with the promise of a bit more in the future. I certainly hoep that is the case.
Listening to the album is like taking a trip with Shirantha as he points out his favorite places along the way. This album is a journey worth taking.