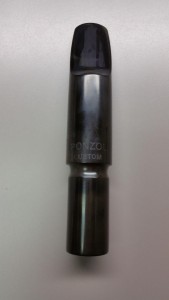 While on the hunt for a mouthpiece for a series funk and rock gigs I have upcoming I remembered a good friend and tenor player who loved his Ponzol pieces and played them religiously on all of his horns. With this in mind I headed over to my repair tech and perused through his over 500 mouthpieces until I found a Ponzol. With that in hand I headed home to give this high baffled super piece a shake down. I was very surprised with what I discovered.
DISCLAIMER/REMINDER: As a general rule, the sound you get from any mouthpiece is dependent on a number of factors. These include the players physiology, the horn, the reed chosen, the mouthpiece and most importantly the players sound concept. The sound concept is the internal tone each player hears in their head. If you prefer a darker tone then no matter what your body will find a way to darken the tone. Consider how Don Menza can sound like Webster, Coltrane, and Hawkins just by hearing the sound in his head. His well practiced body then makes changes to give him the desired tone.
Sound: This piece is darker than expected with a dark reed. It is a medium brightness with lots of higher harmonics when paired with a dark reed. This is fine but when I paired it with a bright reed it seemed to amplify higher harmonics buzz and left me sounding a little hollow in my recordings. This could be because of my horn, embouchure, my mood that day, or the reeds. It could have been all of those factors or none, but I didn't not care to play this piece with reeds that edged towards brighter sounds.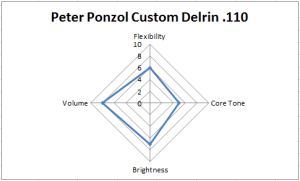 Construction: Ponzol makes his pieces on CNC machines then hand finishes them. This piece has all the signs of having been finished by hand. There are very fine sanding marks in the baffle and bore of the pieces. The proof is obviously in the pudding when it comes to quality finishing. In general, the worse a final facing is the harder it is to find reeds that work and squeaks can be a recurring problem. This mouthpiece offered a perfect feeling facing, mild resistance and never squeaked.
Mouth feel: This piece is made from Delrin, "a engineering thermoplastic used in precision parts requiring high stiffness, low friction and excellent dimensional stability."* What this means is that it is smooth, strong, and has an excellent mouth feel. The piece is very slim, feeling like a tenor hard rubber mouthpiece. It is very easy to play for even the smallest of mouths. Also, the material feels almost exactly like traditional hard rubber to the vibrations you feel in your head from the mouthpiece will feel about the same.
Reed friendliness: Since this is determined by the quality of the facing and condition of the mouthpiece I give this high marks for reed friendliness. It played every synthetic and natural reed I could toss at it. It did seem to have a sweet spot for 2 – 3 reed strength when paired with my embouchure.  A Jody Jazz DV 7 on the other hand requires me to play a 2.5 to 3.5 strength so the difference in facing designs
TAKE AWAY: This is a nice mouthpiece and would, in my opinion, serve someone who wants more power and *umph* from a moderately raised baffle piece without the paint peeling qualities of a piece with truly high baffle piece. If you prefer pieces which offer little to no blowing resistance then you may prefer a Jody Jazz or similar which offer almost no resistance. But if having a little something to blow against is your preferred feeling then you will like this piece even more.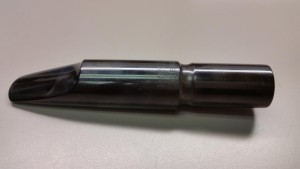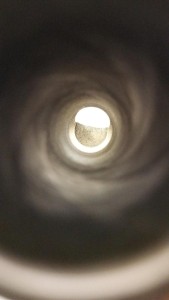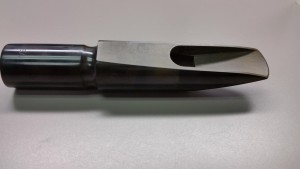 *Wikipedia