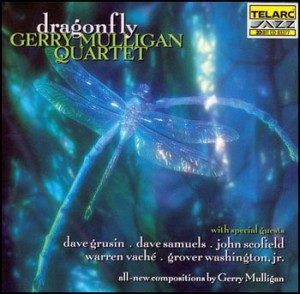 Does the west coast jazz sound pioneered by bari greats like Gerry Mulligan and Serge Chaloff hold up against a modern jazz context and musicians? This album pairs the unlikely bosom buddies  of Mulligan's cool bari tone with modern edgy yet full tone of the late great saxophonist Grover Washington jr, cornetist Warren Vache, trumpeter Ryan Kisor and guitarist John Scofield.  As Mulligan's final recording before his death he reminded us that his style of lyricism and story telling is still fashionable in a world of higher and brighter jazz.
I had all but forgotten this album until I heard it's title track on the radio. It was then that I remembered that I did not actually own this album. I was released in 1996 and I hadn't gotten around to purchasing it it. Most notably because it has Gerry Mulligan and Grover Washington. In 1996 i was much more about playing and recording alto saxophone than the horn I would eventually find my voice on, the baritone. As I grew my mulligan collection through the 1990's and 2000's it's still odd that I missed this album. Thankfully I have it now and I'm glad i do.
I mentioned the guest performers on the tracks but the emphasis is still on Mulligans classic quartet and his luscious cool tone. Something of note is that while listening you might notice that Mulligans tone has added a little edge. not a lot of edge mind you but just a bit. I'm still tracking down his setup for this final recording but it does sound different. It could be the higher fidelity of recording between this album and the previous ones.
This album is Gerry Mulligan in his pure form and if you are a fan of his then this album won't disappoint. If on the other hand you are expecting something totally new then you'll likely be disappointed. Other than a few track the album feels comfortable and familiar. There isn't anything wrong with that old familiar feeling but it did leave me wanting more Grover Washington Jr collaboration.
Final Thoughts: This album is solid but safe. It deserves a place in your collection but it won't bump Konitz meets Mulligan or Mulligan meets Monk off of your bari sax rotation.