What do you get when combine the punch of a 0-SMS Berg and artisan-ship of a handmade mouthpiece? You get the AM Mouthpieces Katana. If you are familiar with it's namesake then you know a katana is considered one of the best weapons to grace the battlefield. It's sharp, durable and purposeful in it's action. These were weapons of a warrior class and demanded practice and respect to wield it responsibly. Thankfully this mouthpiece doesn't require much break in time for your embouchure so you'll be able to start slicing through the mix with this well balanced musical tool.
My last mouthpiece review was my Theo Wanne DURGA Baritone Saxophone Mouthpiece size 7
. (Affiliate link) I can't tell how many compliments I received from fellow players who say my husky tone is what they think all baritones should sound like. I very much like how I sound on the piece and intend to keep it for years to come but now I need a bit more. The Durga is great but it can't quite keep up with the funk band I've recently joined. Competing against electric instruments even while mic'd is not an easy task with a dark'ish mouthpiece. With that I knew I needed more powaaaah!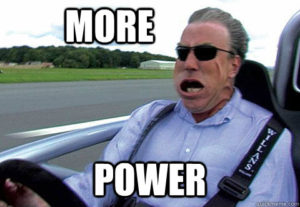 With that I reached out to Arnold Montgomery at AM mouthpieces with my list of requirements and my credit card. Arnold listened to what I was trying to do and recommended the Katana in a new white composite material for which he has only a few baritone saxophone blanks.  After our brief conversation I felt I had made a good decision. Besides, the opportunity to have a rare'ish mouthpiece is hard to pass up and user reviews from his other mouthpieces were positively glowing.
First thing I noticed is the brilliant white of the material. I didn't test for hardness but it had a mouth feel somewhere between plastic and hard rubber. I t was very smooth and Arnold's finish work is superb. The tip an side rails were perfectly shaped and crisp, everything you'd expect from a hand made piece. The crisp tip rail aids in clean and rapid articulation.  This was
The second thing i noticed was the thin shank. I asked Arnold if the thin needed reinforcement but he assured me that the material was quite robust and would fair well normal use. Which i took to mean "If you don't drop it or kick it around it will be fine." After almost 50 hours of playing I have not seen any change in the mouthpieces look, in fact i had dropped one day while fishing it out of the bag I had it in. It fell about 12 inches to the wood dance floor of the community center our big band was playing in. It landed nearly flat with the shank corner touching down first. As Arnold had suggested the mouthpiece was no worse for wear.
Design: This piece has a slim mouth feel due to it having a thin and long beak. The mouthfeel is ever so slightly larger than a metal mouthpiece but not by much. So if you are a tenor player who need to swap quickly to baritone or just a player who likes the feel of metal mouthpieces but want the comfort of a more forgiving material like resin or hard rubber then this design will fit the bill.

Tone: While tone is subjective a few basic features can described. This piece has a high and long baffle which when combined with his custom chamber and throat design adds edge to the tone without it becoming harsh and abrasive. In a way it's Berg'ish but different. With more Doc Kupka / Pepper Adams punch than the Theo Wanne Durga. In some ways it's quite easy to get a medium-bright Brignola tone al la his Strathon Adjust-tone days when paired with a dark reed..
Quirks: This has a tenor like diameter so finding a perfect ligature may take a bit of effort. In fact i found two hard rubber tenor and 2 metal clarinet ligatures that fit it but not one of my bari ligatures fit.  Also, I don't feel like it vibrates quite the same as a hard rubber or metal piece so I added a firm tooth pad to the beak to give tooth feel I'm used to. I used a clear Theo Wanne Mouthpiece saver tooth pad.
Value: This is an easy one. For the price of a mass produced piece you can have a hand made mouthpiece. The truth is Arnold should be selling these pieces at double the price and it would still be a great deal.
Take Away: Though it had a tendency to exacerbate my Yanagisawa's flat sounding palm keys I still recommend this piece. I actually attribute that issue to a flaw in the horn design or poor palm key and not to the mouthpiece.The piece is made by a mouthpiece artist and we as players should be looking to keep innovators like Arnold growing and creating. Unfortunately the mouthpiece market is flooded with  mass produced units and hyper expensive customs. Arnold has a middle market that is affordable to most and accessible to all. This is a great area also occupied by the likes of RPC and 10M Fans mouthpieces. We have to keep creators like them alive and pushing the boundary between affordability and high quality.